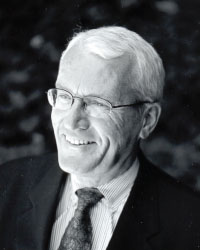 Dr. James Waddell
Dr. James Waddell was born in Alberta and graduated from the University of Alberta Medical School in 1967. He did his postgraduate training in orthopaedic surgery at the University of Toronto and assumed a staff position at St. Michael's Hospital in 1973.
He has occupied a number of positions at St. Michael's Hospital including Surgeon-in-Chief and Medical Director of the Trauma Program; he completed 10 years as the Professor & Chairman, Division of Orthopaedic Surgery at University of Toronto in June of 2006. He has also occupied a number of positions in the Canadian Orthopaedic Association including President. He has completed a 10 year term as the Co-Editor of the Canadian Journal of Surgery.
He is currently the Chair of the Expert Panel for Orthopaedic Surgery for Health Quality Ontario. He also is the Co-Chair of the National Hip and Knee Knowledge Translation Network and the Board Chair for the Canadian Orthopaedic Foundation.