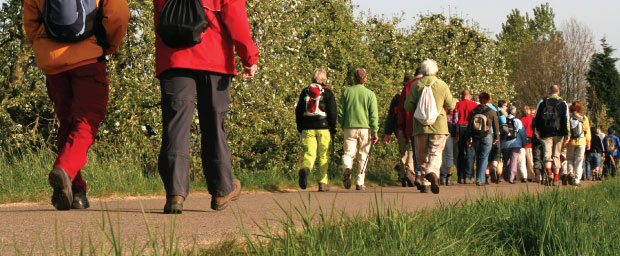 Osteoarthritis (OA) is a chronic disease that results in the breakdown of cartilage within the joint. The initial symptoms of OA include some mild joint pain and/or swelling and/or stiffness, which can lead to reductions in physical activity levels. For individuals who experience disease progression the joint degenerates, symptoms fluctuate and become worse and further medical interventions are required.
The management strategies for OA start with prevention. It is well known that sports injuries and obesity are major factors that lead to osteoarthritis changes within the knee and hip. As such primary prevention strategies need to be in place to reduce the incidence of OA and healthcare professionals are starting to work with sports teams and schools to provide training on neuromuscular injury prevention programs such as the FIFA 11+ for which more information is provided in the injury prevention section of this web site.
Once individuals are experiencing cartilage degeneration resulting in symptoms, education and exercises are the most effective method of symptom management. To be effective these programs need to facilitate exercise in the daily life of the patient and as such align with the community and wellness sectors where patients may chose to spend their time exercising. For example modified exercises for group or social classes, running groups, gym programs or activities such as Tai Chi. GLA:D Canada is an example of an evidence based program specific for OA.
For a few individuals the symptoms will deteriorate to the point where they require additional medical management including access to consultation for pain management or for surgery for consultation for a hip and knee replacement. This requires a comprehensive system approach for referral, education and access to quality care.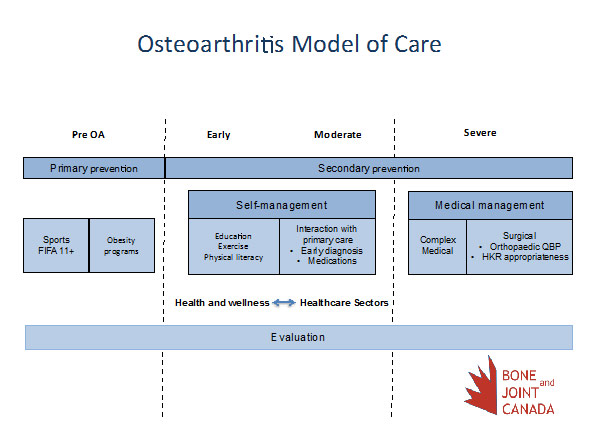 Additional information on each of the programs is provided in the following pages.