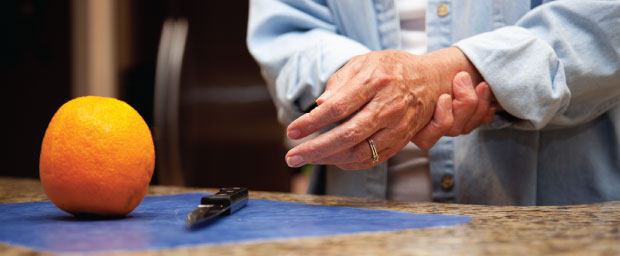 Osteoarthritis (OA) is a chronic disease that results in the breakdown of cartilage within the joint. The initial symptoms of OA include some mild joint pain and/or swelling and/or stiffness, which can lead to reductions in physical activity levels. For individuals who experience disease progression the joint degenerates, symptoms fluctuate and become worse and further medical interventions are required.
The management strategies for OA start with prevention. It is well known that sports injuries and obesity are major factors that lead to osteoarthritis changes within the knee and hip. As such primary prevention strategies need to be in place to reduce the incidence of OA.
Once individuals are experiencing the symptoms of the disease, education and exercises are the most effective methods of symptom management. These exercises need to be developed so that they can be completed in everyday daily activity at home or through modifications to exercise participation in a wellness program, such as Tai Chi or in a gym for those individuals who are actively participating in physical activity.
For some individuals the symptoms become worse and advice is required on medication and other management strategies. This can be provided through a family physician, or through referral for consultation to a specialist such as an orthopaedic surgeon or rheumatologist.
For individuals with hip and knee OA, Bone and Joint Canada and the Canadian Orthopaedic Foundation are certifying physiotherapists, chiropractors, kinesiologists and other professionals with skills in exercise for people with disability to implement an evidence based education and exercise program for people hip or knee osteoarthritis. This program is called Good Life with osteoArthritis in Denmark (GLA:D). The program originates from Denmark, and is currently being implemented across Canada. Find your nearest GLA:D™ Canada clinic at the website below.
Individuals with the painful or stiff joints may find out more about osteoarthritis (OA) and ways that they can help manage their symptoms on The Arthritis Society website.
Additionally, the Osteoarthritis Research Society International has recently published guidelines for managing knee OA. They provide a summary on the recommendations for people with OA.
www.oarsi.org/education/oarsi-resources